Mountain Biking / Scenic Chair Rides
Thank you to all who visited us this summer! The Mountain Bike Park is now closed for the 2016 season.
Enjoy unlimited access to our lift-served mountain bike trails this summer with a 2016 Mountain Bike Season Pass. Save up to $30 when you purchase your summer bike pass in conjunction with your winter 2016/2017 season pass. The China Peak mountain bike park is open Saturdays and Sundays from July 2 through September 4.
2016 REGULAR BIKE PARK

SEASON PASS PRICES

BIKE PARK SEASON PASS PRICES

WHEN PURCHASED WITH

A 2016/2017 WINTER PASS

Adults (30+)
$129
$99
20 Something (20-29)
$99
$79
Teen (13-19)
$89
$69
Kid (12 and under)
$59
$49
CHECK OUT THE MOUNTAIN BIKE PARK
CLICK HERE TO VIEW A VIDEO OF THE MOUNTAIN BIKE PARK
CLICK HERE TO DOWNLOAD OUR TRAIL MAP
2016 BIKE PARK RATES
Mountain Bike Park tickets are good for a full day from 9am to 4pm or for a half day from 12:30 to 4pm. Check out our new Learn to Mountain Bike package for those just starting out that need a bike rental and want to enjoy a guided ride. Our Learn to Mountain Bike program includes a full suspension bike, rental helmet, lift ticket and a 2 hour lesson/guided ride. Lesson times are 10:30am and 1:30pm. It is highly recommended that you reserve a bike in advance for the learn to mountain bike program. Please call 559.233.1200 or email cpinn@skichinapeak.com
All Day Bike Park
Half Day Bike Park

Learn to Mountain Bike -

includes full suspension bike, helmet,

lift ticket and 2 hour lesson.

Adult (30+)
$35
$28
$99
20 Something (20-29)
$28
$23
$99
Teen (13-19)
$28
$23
$99
Kid (12 and under)
$14
$11
$99
2016 SUMMER BIKE RENTALS
Don't have your own mountain bike? We've got a fleet of full suspension mountain bikes for rent. Bikes can be rented for a full day or half day. Reservations are recommended and are taken for full day rentals only. A current ID and credit card with a $250 deposit are required for all rentals and minors must be accompanied by a parent or guardian to rent or ride.
| | |
| --- | --- |
| All Day Bike Rental (9am-4pm), full suspension bike, all ages | $58 |
| Bike Rental Insurance | $12 per day |
| Half Day Bike Rental (12:30-4pm), full suspension, all ages | $47 |
| Full Face Helmet Rental, all day | $12 |
To reserve a bike, please contact the Inn desk at (559) 233-1200 Monday - Friday from 8am to 6pm. Or, you can email cpinn@skichinapeak.com with your name, phone number, date of rental, and bike size or rider's height. Your reservation is not complete until we call you back and receive full prepayment for the rental with a credit card. Bike reservations are non-refundable.
**Due to the overwhelming demand, we will hold all reservations until 11am. Please let us know in advance if you will be arriving after 11am to hold your bike.
*$12 Damage Insurance: Covers normal and accidental damage and wear and tear for normal and reasonable use of the bicycle due to terrain features, unseen obstacles on open terrain, or breakage from common wear. Damage caused by negligent or reckless behavior, intentional misuse, and loss due to theft ARE NOT COVERED! Damage is solely determined by CPMR staff, and participant (and Guardian if participant is a minor) will be held financially responsible for damage/loss arising from negligent or reckless behavior, intentional misuse, and theft. If participant (and Guardian if participant is a minor) elects to forgo damage insurance, participant (and Guardian if participant is a minor) will be held financially responsible for the full cost to repair and/or replace damaged components on the bicycle. All bicycles are inspected prior to each rental and immediately following return by CPMR staff.
IMPORTANT FORMS
All bikers must sign a Summer Mountain Activities Participants Release. CLICK HERE TO SIGN ELECTRONICALLY
CLICK HERE TO DOWNLOAD THE BIKE RENTAL AGREEMENT
CLICK HERE TO DOWNLOAD THE HELMET RENTAL AGREEMENT.
SCENIC CHAIR RIDES
Prefer a scenic hike down from 8700 feet at the top of Chinese Peak? Then a scenic chair ride might be for you. Chair rides are available on select Saturdays and Sundays when the resort is open for mountain biking. Scenic rides are also available on Friday, July 2nd. Scenic chair ride prices are for a single ride up or roundtrip if you prefer to ride down. Rides are $17 per person per ride for ages 13+. Children 12 & under are $11. All participants must sign a SUMMER MOUNTAIN ACTIVITIES PARTICIPANT'S RELEASE.
*Please note that after 3pm, hiking down will not be allowed. Due to the length of time it takes to hike down, all chair riders after 3pm will be required to ride the chair back down.
SAFETY
BUY TICKETS & PASSES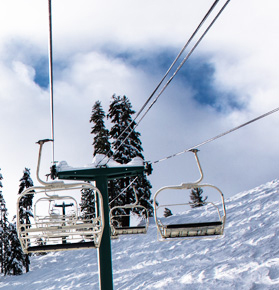 LEARN TO SKI OR RIDE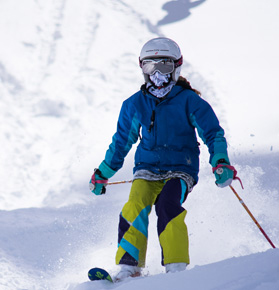 STAY AT THE PEAK