The Cohee family has made skiing their passion for 40 years, dating back to Tim and Anita's days as ski instructors at Snow Summit in the mid 1970s. They have raised five boys on the slopes of California ski resorts, producing three national class skiers. Chase is one of the top big mountain skiers in the nation; Troy was among the top junior racers, and Nick is still on the national circuit, having completed a distinguished career as a two-time NCAA 1st Team All-American at the University of Utah, as well as being named the 2012 Utah Skier of the Year. Sons Taylor and Tristan are also among the best skiers on any mountain in America.
Tim Cohee is widely regarded as one of the leading resort operators in the nation, with 35 years of senior management at a handful of high caliber resorts. After 17 years as CEO, President, COO, CMO and General Manager of Lake Tahoe's Kirkwood Mountain Resort, Tim and a few partners purchased Sierra Summit Mountain Resort in 2010, bringing back the resort's original and popular name, China Peak, now entering its 55th year of operation. The resort's existence and growth in the 1960s and 70s was due to the passion of Joe and Joanne Weirick, who owned the resort beginning in 1960.
Since 2010, Tim and his partners have invested over $2 million in a wide range of resort improvements, including a remodel of the Inn, restaurant & bar; additional food & beverage services, seating & restrooms; additional parking & grading; additional grooming and snowmaking machines; new retail, rental and ski & board school facilities; additional beginner lifts, and more.
One of a handful of family owned resorts in the nation, Tim and his staff bring a customer focus to the resort every day, every season. Their life long commitment to skiing and resorts can be felt across all aspects of China Peak.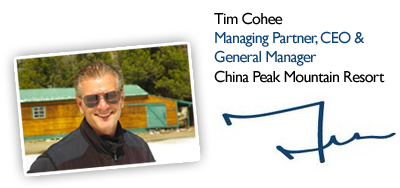 Have questions about the Peak Club
or China Peak?

Click here to ask Tim!