The Peak Club Corporate Membership. Endless opportunities for winter excitement at an amazing value.
The Peak Club was introduced in 2010 with the change of ownership and return to the resort's original name, China Peak, from 1958-1982. Our members enjoy a variety of exclusive benefits which make their time at our resort the best it can be. All of our Peak Club benefits are outlined on this site.
If you have questions, feel free to email me at tcohee@skichinapeak.com. If you'd like to speak with me about Peak Club membership, call anytime at (559) 289-9661.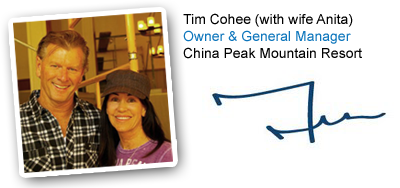 Have questions about the Peak Club
or China Peak?

Click here to ask Tim!