Tim Cohee has been a highly respected executive in the ski resort industry for over 30 years, having spent many years at a handful of America's top resorts, including Snow Summit, Heavenly, Bear Mountain, Sunday River and for most of the past 17 years as President of Kirkwood Mountain Resort near Lake Tahoe.
He is well known for his tremendous passion for the sport, customers and staff, and places the highest value on service, quality and community. His entire family – including five boys ages 13 to 27 – have grown up in skiing, and three currently compete on a national level. His involvement with Sierra Summit dates back to 1981, when he was marketing director for Snow Summit when they purchased China Peak, and became active in the marketing of Sierra Summit through the mid 1980s.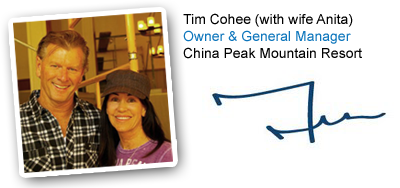 Have questions about the Peak Club
or China Peak?

Click here to ask Tim!