COVID-19 Safety Precautions
We recognize that the COVID-19 pandemic is constantly evolving as we learn more with each passing day, which is why we are committed to create a safe mountain experience for everyone. We are following state and local guidelines to ensure our staff along with our guests stay safe during these times. To meet COVID regulations China Peak will be requiring face masks indoors and whenever within six feet of anyone you did not arrive witih. You can take your mask off while skiing or riding. This is no joke, if we want to stay open this winter we must enforce whatever COVID rules are in place at any given time. We are also asking our guests to ride the chair with people they arrived with at the resort.These enhanced health and safety measures include:
Enhanced Protective Measures: We are requiring mandatory face coverings for both staff and guests when inside any building, including lines and when loading the chairlift. Please bring your own face coverings, we may have some available. Guest can ride the chairlift alone, or with a member of their group, we will not force anyone to ride together. You will see many 6 foot social distancing markers, along with directional arrows, where appropriate. We've added protective barriers at our hotel front desk, food and beverage buildings and retail shops. When physical distancing is possible, such as skiing or riding guest may remove their masks.
Temperature Checks: Staff will undergo temperature screenings upon arrival each day. China Peak Inn guests are also required to have their temperature checked upon arrival. You will be asked to return home should your temperature read a certain degree, this includes staff.
Enhanced Cleaning and Sanitation: We are planning to build on our existing standards of cleaning, we've added a 24 hour unoccupied window in our hotel rooms to ensure proper cleaning and sanitation.
Masks: Please plan on wearing your mask at all facilities. Please help all of us stay safe and stay open.
Most people have been very good about wearing their masks, distancing, etc. We are fully aware how this latest shut down is affecting businesses and their customers alike, it's a terrible thing. We're fortunate to have a place to go where everyone can easily space out, ride lifts only with those they came with, or ride alone. Guests can only enter buildings to order, plenty of seating outside. With regard to masks, they must be worn unless you are sitting at a table, riding the lift with those you arrived with, or skiing/riding. If you need a new mask, we have super cool China Peak face masks that we're selling in the Sport Shop at our cost, $4.99.
Also, you are welcome to sit outside anywhere at China Peak, as none of our patios or decks are tied to our food facilities, including Buckhorn, Mainstream, Base Camp, Day Lodge and the Inn Patio. Anyone can sit anywhere, but please enjoy your picnic lunches on the picnic tables in front of the Day Lodge and reserve the upper level seating for those purchasing food from our cafeteria, as we have much less seating than in normal times. .
By visiting China Peak Mountain Resort and China Peak Landing you voluntarily assume all risks related to exposure to COVID-19.
2022/23 WINTER SEASON PASSES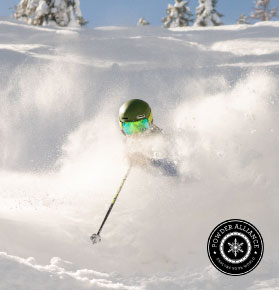 WORK HERE, PLAY HERE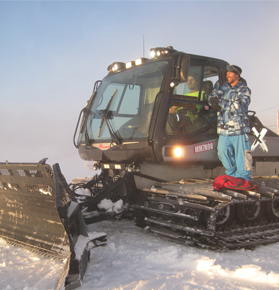 STAY AT THE PEAK